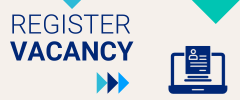 Register vacancy
Looking for staff? Register your vacancy with us and we´ll be in touch to discuss your needs.
Meet our management team
Let us introduce you our team of managers and do not hesitate to get in touch should you need more details about our services.
How to speak to your staff about their career development?
How to speak to your staff about their career development?

The possibility of continuous professional development is a great value for employees. This affects efficiency and increases job satisfaction. This is a topic worth raising when talking to your team members to understand their needs and help build a career path. However, this is not always easy. So, what is the best way to discuss career development with employees?
Taking care of the professional development of employees is very important. A person who has the support of a superior is more effective, motivated and self-confident. As a result, they can achieve even better results and plan the next steps on their development path in the company's structures. What should you keep in mind when discussing career development with your staff?
1. Listen carefully
Before starting any specific development activities, focus primarily on the expectations of the employee as different people have different needs. Investigate and analyse the all the information you have received. The following additional questions may be helpful:
• What do you value in your work and which aspects would you like to change?
• Which skills are useful for your position? Do you need to strengthen any of them?
• In which areas would you like to make better use of your potential?
• What is your desired role in the company would you like to play in the perspective of 2 years?
Analysing these areas will not only allow you to get to know the employees' aspirations better, but also increase their self-awareness. This, in turn, will be a significant facilitation in further career planning of the employees.
2. Remember to be honest
The bread and butter for a valuable dialogue is sincerity. It is important to think carefully about what can be offered to your people in the context of the development of their careers. Present only those options that are available and do not promise what is not confirmed at the time of the conversation. This will avoid disappointment or even loss of trust.
3. Offer support and be a motivator
When employees start the first of the planned development activities, systematically observe their progress. Organize regular meetings, where you will analyse past achievements as well as any potential challenges together. Thanks to this, your people will know on which areas they should focus in order to meet the conditions for promotion or other predetermined professional opportunity, e.g. participation in an international managerial program. Also, remember to highlight and acknowledge successes that have been achieved and motivate the employees at every stage of their career plan. This will help them to show greater self-confidence and effectiveness in action.
Why is it so important to plan your development together with your employees?
Helping employees plan their careers has many benefits. First of all, it strengthens partnerships and relations that enable more effective cooperation of the entire team. Often, employees who receive support and motivation from their supervisor also show better loyalty and stay in companies for longer period of time. And a leader who is involved in the development of his subordinates contributes to the more effective functioning of the business, securing access to key competences for the company and promoting an organizational culture built on the concept of learning at every stage of the career. An important advantage is also continuous expansion of managers' soft skills, for example communication skills, which are crucial for successful employees management.