Property & Surveying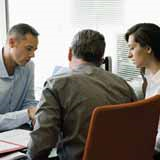 Cooperating closely with leading industry players both in the Czech Republic and globally, our consultants have a wealth of experience and can help you to build the career that you desire.
Dealing exclusively in Property & Surveying jobs in Prague, Brno and across the Czech Republic, they have an in-depth understanding of their specialism and market, keep up-to-date with all the latest trends and developments and have a wide range of industry contacts.
We combine industry know-how with an understanding of our jobseekers' needs to provide the most relevant roles to help them advance their careers. Whether you are looking for a role as a Project Manager, Development Manager, Foreman or Architect, we can help you to find the roles that match up to your expectations.
Search our Property & Surveying jobs now and you can also sign up for our job alerts, which bring all the latest roles direct to your inbox.
Career Advice
Need some quidance on CV preparation or interview tips? Read our best practices so you can make your job search even more efficient.
Refer a Friend
Refer a friend to Hays and get rewarded for successful recommendation.