Business Services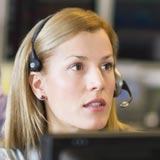 We can find you the ideal candidate that possesses any skills you require, including the knowledge of two or more foreign languages and experience in Finance, IT Help Desk, Customer Service, HR Services and Administration roles amongst others.
Our consultants are passionate about what they do and build long-lasting relationships with their clients. Dealing exclusively in Business Services jobs in the Czech Republic and Slovakia, they have an in-depth understanding of their specialism and market as well as a wide range of industry contacts.
With extensive cooperation between our Central European Business Services teams, covering the Czech Republic, Poland, Hungary and Slovakia, we will be able to find you the right match.
All our recruitment consultants within our Business Services division have plenty of experience recruiting for jobs with both large multinational and smaller and medium-sized enterprises (SMEs) in Prague and across the Czech Republic, covering the ever-growing Shared Services (Shared Services Centre / Business Process Outsoucing Centre) sector.
Register vacancy
Looking for staff? Register your vacancy with us, our recruitment expert will get in touch with you shortly.
Hays Response
A quick response to your urgent recruitment needs in HR, admin, legal, Business services, retail or temporary. This is Hays Response.