Energy, Oil & Gas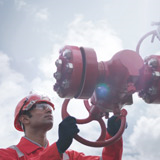 If you need utilities, power generation, oil and gas or petrochemical staff in the Czech Republic, we can help. From exploration, project development and construction to asset operation and maintenance, Hays' global network can supply the staff you need for the entire energy, oil and gas lifecycle.
We'll take the time to understand your business's challenges and requirements and tailor our services to help you attract and retain the best talent that the energy, oil and gas industry has to offer.
Using their in-depth knowledge of the sector and working closely with you, our specialists in the Czech Republic are able to offer you insight and find you the right calibre of candidate that can meet all your energy, oil and gas requirements and make a real impact to your organisation.
Register vacancy
Looking for staff? Register your vacancy with us, our recruitment expert will get in touch with you shortly.
Hays Response
A quick response to your urgent recruitment needs in HR, admin, legal, Business services, retail or temporary. This is Hays Response.