Engineering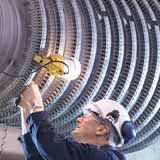 Working closely with a range of organisations both in the Czech Republic and globally, we combine industry know-how with an understanding of our clients' needs so that we can provide them with those candidates that possess the skills to help them transform their businesses.
Using their in-depth industry knowledge, our Engineering specialists can find you the right calibre of candidate to meet all your technical requirements. Whether you are looking to recruit a Senior Field Service Engineer, Process Technologist, Project Leader, or any other engineering role, we will ensure that the process is as seamless as possible.
We use our extensive global database of candidates to find you the best talent and you'll only get to meet those that most closely match the competencies required for your Engineering jobs in the Czech Republic.
Register vacancy
Looking for staff? Register your vacancy with us, our recruitment expert will get in touch with you shortly.
Hays Response
A quick response to your urgent recruitment needs in HR, admin, legal, Business services, retail or temporary. This is Hays Response.