Healthcare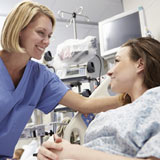 Working closely with healthcare organisations in Prague, Brno and the whole of the Czech Republic, we combine industry know-how with an understanding of our clients' needs so that we can provide them with the most relevant skills to help them transform their businesses.
Using their in-depth industry knowledge and working closely with you, our specialists are able to offer you insight and find you the right calibre of candidate that can meet all your retail requirements and make a real impact to your organisation.
Whether you are looking for medical or non-medical personnel, you can be sure that you'll receive the most tailored service that always aims to provide you with the most relevant skills to match your Healthcare jobs in the Czech Republic.
Register vacancy
Looking for staff? Register your vacancy with us, our recruitment expert will get in touch with you shortly.
Hays Response
A quick response to your urgent recruitment needs in HR, admin, legal, Business services, retail or temporary. This is Hays Response.