Logistics & purchasing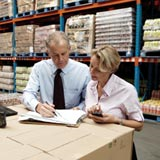 Our broad candidate database allows us to offer you a quick solution to your recruitment project whether you are looking for a suitable candidate for a junior role or are searching for a member of your top management.
All our Procurement & Logistics experts have substantial experience recruiting for roles such as Purchasing Agents, Inventory Planners, Logistics Coordinators and Warehouse Managers in Prague, Brno and across the Czech Republic.
We use this detailed insight to find our clients the candidates that possess the right skills to make a real impact on their organisation.
Focusing solely on their specialist sector, our consultants can help you find the personnel to match the competencies required for your procurement and logistics jobs in the Czech Republic.
Register vacancy
Looking for staff? Register your vacancy with us, our recruitment expert will get in touch with you shortly.
Hays Response
A quick response to your urgent recruitment needs in HR, admin, legal, Business services, retail or temporary. This is Hays Response.