Media

Recent Articles:
Report, Hays & Oxford Economics: Pandemic implications for the world of work
Download report
Survey: most common reasons to change jobs 17.9.2021
Tisková zpráva Press release
Should you be interested in more detail about Hays or current labour market trends, or you´re looking for comments from our specialist team, please do not hesitate to get in touch:
Kristýna Králová
Marketing & PR Manager
T: +420 724 352 982
E: kralova@hays.cz
J&N Publicity, Jitka Novotná
External PR Advisor
E: jitka.novotna@jnpublicity.cz
Hays Journal 18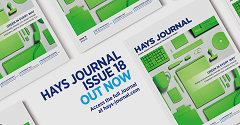 The latest editionhh of Hays Journal is out now - what are the labour market latest trends?
Hays & MCFC
Hays je oficiálním recruitment partnerem klubů MCFC a MCWFC. Zajímá vás, co má společného svět práce a svět sportu?
Hays Global Skills Index 2019
Issue 2019 is now available - how the global labour markets develop and what challenges they face? Check in our online tool.